Welcome to our website which we hope you will find informative and will stimulate your interest in the great sport of Dog Agilty.
Latest News
Details of the Club's General Data Protection Regulation Policy can be found on the Member's Info Page
May is turning out to be very busy with shows each weekend
>GT & Vyne at Newbury with Bob & Zola getting a win, Jennifer & Finn getting a 3rd, Jayne & Drift also a 3rd & Paula & Ziggy a 4th
>Tunbridge Wells at Ardingly with Jayne with both dogs getting a 3rd place each
>Paws in the Park at Ardingly with Jayne having an amazingly successful day with a 3rd & 5th for Moss out of 90 & 140 competitors respectively. Drift did even better with a 3rd out of 201 entries and then 6th out of 150 entries in a grade 4-7 competition (Drift is grade 4!!)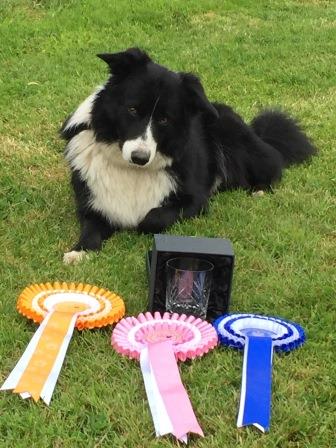 Moss with Rosettes & Prize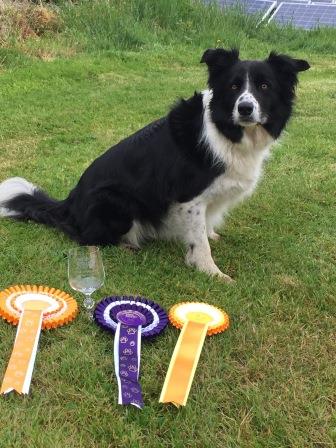 Drift with Rosettes & Prize
>Chaldicot at Shaftsbury success continued with Shiela & Ted having a 1st place but sister Jess had three 1st places!!!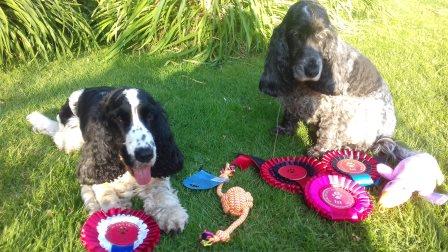 Ted (left) & Jess (right) with Rosettes & Prizes
Club Equipment Spring Clean Night 15th May 1830hrs
Another very successful Spring Clean - many thanks to all those who turned out - it was good to see a number of new members pitching in with the stalwarts.
Southdowns Show on September 30th now live on Agility Plaza.