Dog Agility
Agility is one of the fastest growing dog sports in the country.
Agility is open to all ....no matter you age, size, sex or mobility level, if you want to enjoy a, positive, reward based activity with your canine pal, then AGILITY could be for YOU. Rather than just repeating that same walk every evening why not do something DIFFERENT....Dogs need BRAIN as well as PHYSICAL stimulation....AGILITY provides both.
Agility is suitable for almost any breed of dog.
Agility involves teaching your dog to complete numerous individual CHALLENGES such as jumps, tunnels, weaves, tyre and seesaw ....and then learning how to join the individual challenges together in a course of up to 20 obstacles. Not as easy as it sounds!!
All training is POSITIVELY MOTIVATED and REWARD BASED ....High praise for the good bits and ignore the bad.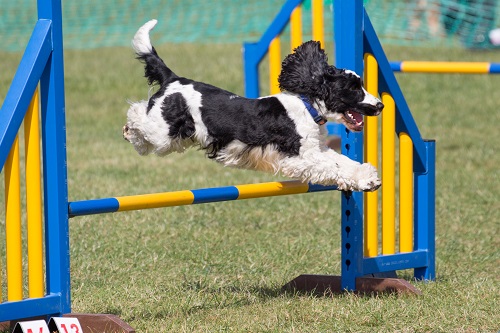 Ted
At Southdowns Agilty Club our courses are in 10 WEEK blocks. Nine weeks training and then a "COMPETITION NIGHT" for you to put all that you've learned into practice.
For those who become ADDICTED to agility, (and many do) there are an abundance of SHOWS throughout the country catering for the needs of handlers of all ability levels....from, fun shows, through independent shows to Kennel Club recognised events.
If you think that DOG AGILITY might be for YOU then contact ANGELA at:
enquiries @southdownsagilityclub.co.uk