Welcome to our website which we hope you will find informative and will stimulate your interest in the great sport of Dog Agilty.
Keep your diaries clear 29th & 30th September, all help wanted to set up, run and dismantle our show (no experience necessary all guidance & training will be given - see also Agility Helpers' Guide to Being Helpful)
Even if you can only make the odd hour please contact the Show Secretary to offer & register your assistance. Also don't forget there is the free helpers' BBQ on the Saturday and free breakfast & lunch for the helpers on Sunday.
There is a discount for SAC Members entering our show. Contact the Show Secretary for your discount code, needed for Agility Plaza.
See you all there !!!
Latest News
Don't forget the Club's summer break is from 1st August until 2nd September - therefore no training in this period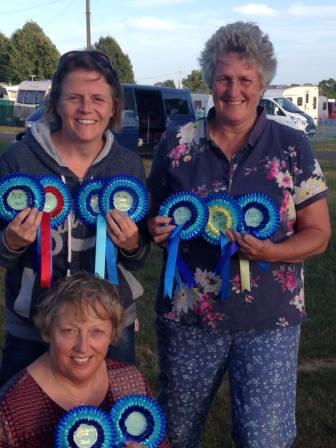 Agility Club Premier Show & Championships
From searing heat on Friday to thunderstorms & gales on Saturday and then torrential rain on Sunday, seven members & eleven dogs braved it out with nigh on eight hundred other competitors at Ardingly this last weekend. As would be expected with these conditions the competition results were very varied but your scribe understands that the partying was unaffected!!! Paula & Ziggy were the stand out Club Team on the course and the Pimm's Girls (see above) at the parties.