"Welcome"
to our website which we hope you will find informative and will stimulate your interest in the great sport of Dog Agilty - whether it be for the competition or just for the exercise & the aquisition of new skills
A successful Broadlands show for Jayne, one of our trainers
Drift 1st in novice jumping and senior steeplechase

Moss 2nd and clear in novice steeplechase.
Next 10 Week Training Schedule is as follows:
1st April - Week 1 - Fees due
8th April - Week 2
15th April - Week 3
22th April - Easter Monday - NO TRAINING
29th April - Week 4
6th May - Bank Holiday - NO TRAINING
13th May - Week 5
14th May - Annual Spring Clean*
20th May - Week 6
27th May - Bank Holiday - NO TRAINING
3rd June - Week 7
10th June - Week 8
17th June - Week 9
24th June - Week 10 - Competition Night
* The Annual Spring Clean of the Club,s equipment will take place from 6.30pm and usually finishes by 8.30pm. We hope all club members will attend to help rid the equipment of the winter blues and get ready for a bright and fresh 2019 season.
For new members who have not attended a Annual Spring Clean please wear old clothes and bring a bucket, brush, washing up liquid and gloves but not your furry friends. You may get a bit wet as there will be power washing of the large equipment.
Refreshments will be provided.
Look forward to seeing you and enjoying the evening!!
For Those Wishing to Compete at the Following Popular Shows,

the Closing Dates and Show Dates are:
4th April - Tunbridge Wells & District CS Agility Show 11th & 12th May 2019
5th April - GT Agility UKA Show 3rd - 5th May 2019
19th April - Spring Paws in the Park Open Agility Show 18th & 19th May 2019
26th April - Quadpaws UKA Show 25th May - 2nd June 2019
29th April - Thames DTC Championship Agility Show 8th & 9th June 2019
24th May - Highdown Agility Summer Show 23rd June 2019
8th June - Surrey DTS Open Agility Show 13th July 2019
8th June - Billinghurst DTC Open Agility Show 14th July 2019
13th June - The International Agility Festival 8th - 11th August 2019>
21st August - Waverunners 14th & 15th September 2019
27th August - Southdowns AC Premier Agility Show - 29th September 2019
Further details and shows on the Diary Page - do not get caught out by being too late!!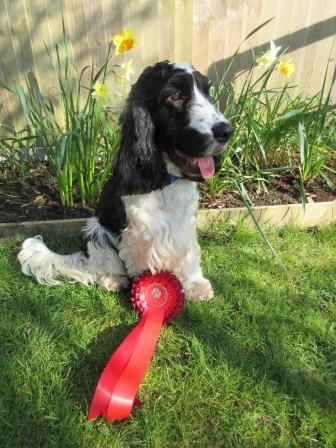 Congratulations to Sheila & Teddy for winning at the Half Moon Show